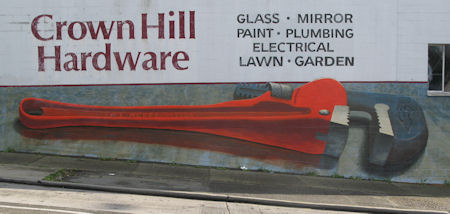 Upon moving to Crown Hill in 2002, I noticed many blank walls on buildings, often tagged with graffiti, painted out graffiti, re-tagged, re-painted out, etc. What is it about a blank wall that encourages vandals to leave their marks? Our major streets, 15th Ave NW, Holman Road, and NW 85th Street appeared quite tired, even dreary. As new businesses have moved in, old businesses and new alike have taken to spiffing up their storefronts with bright colors, and … murals. Most recently the Value Village relocated a couple of doors south on 15th, and engaged the services of Seattle muralist, Ryan "Henry" Ward. Henry's murals drew much attention in the press (MyBallard article, and even some television and radio coverage). It has certainly sparked lots of discussions among neighbors and passerby (as I snapped photos early on a Saturday morning, 6 people volunteered their opinions, four very positive, one negative, one shrug).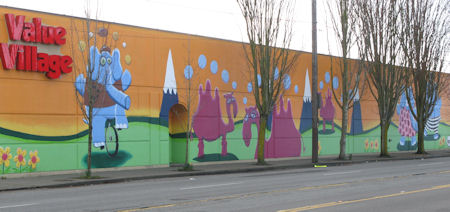 View Crown Hill Murals in a larger map
Henry's murals are definitely not the first in Crown Hill. We have at least a few others I know of: 1) Kasbah Moroccan Restaurant (85th and Mary); 2) Crown Hill Hardware (15th and 80th); 3) Restaurante Michoacan (8300 Block of 15th). The Kasbah mural depicts an entrance facade, and does not appear to be signed. The Crown Hill Hardware mural depicts a large scale pipe wrench and was signed "PE McKee 2008". The Crown Hill Business Association received an OED grant to hire the services of Paul E. McKee to create the pipe wrench. Paul's work work is also found at the Greenwood Library and as benches along Greenwood Ave. Both the wrench and Kasbah murals use make use of the site and building characteristics in their concept execution. One of Henry's murals (there are actually two of them) uses building characteristics, while the other uses the blank wall of the building as a largely flat, unobtrusive canvas. Restaurante Michoacan's mural is the oldest existing mural in Crown Hill, and wraps around the southeast corner of the building.
The Greening Crown Hill study which was conducted through the auspices of the Crown Hill Business Association a few years ago showcases the concepts of public art, murals and public green spaces to add some identifying character to the business district and the neighborhood in general. In the first Crown Hill Ballard Neighborhood Plan, which was published in 1997, again public art was front and center for Crown Hill with recommendations for gateways, kiosks and other opportunities to incorporate art into our neighborhood. The pedestrian experience on our business streets has been largely unfriendly because the streets are dominated by the noise and rush of petroleum fueled rubber-tired traffic. Those of us living in the neighborhood often overlook the tired and dreary graffiti marred surfaces. Those driving through Crown Hill hardly notice the neighborhood because they are rushing to another destination.
Public art enhances our neighborhood, and gives it character and identity. Though pedestrians would probably appreciate the ability to gaze into store fronts and window shop, murals definitely add a new texture to their experience, softening the impact of a blank wall. According to numerous studies, murals don't get tagged with graffiti as often as blank walls. And so far, at least cars are slowing down to look at Henry's new work. Perhaps some of our murals will become identifying landmarks for Crown Hill. If not, we can enjoy them anyway. Each of the murals has surprises in store for us.