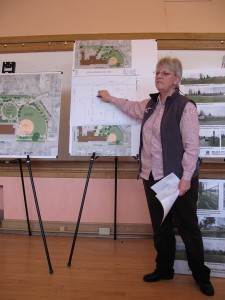 At the recent Seattle Parks and Recreation Dept. community meeting to present the proposed plan for the new (as yet unnamed) Crown Hill park, Lynn Wirta presented the conceptual drawings for the new Small Faces playground. Lynn is the recently retired director of Small Faces, and she now serves as a volunteer on the playground renovation project.  Small Faces recently received a Small and Simple Grant from Seattle for $17000 to update the playground. The working group has been meeting on alternate Thursdays for a number of months now, and recently asked for community input in the form of a survey. Community input and especially volunteers are always welcome — contact Small Faces (206.782.2611) or simply come to one of the meetings.
Below are closer views of the actual proposed plan the first is visionary and the second is bare-bones:
Lynn stressed in her presentation the playground and equipment is open for community use.  The plans include a new play structure for school age children, a trike path, outdoor teaching space, renovated younger children's play structure and perhaps even a climbing wall. The playground will connect to the future Crown Hill park with a couple of gates. The fence separating the playground from the park will be similar to the one installed at the Phinney Center. Along the east side of the playground will be a walking path which will connect to the path along the east side of the park. The first plan (above) includes a dry creek bed feature.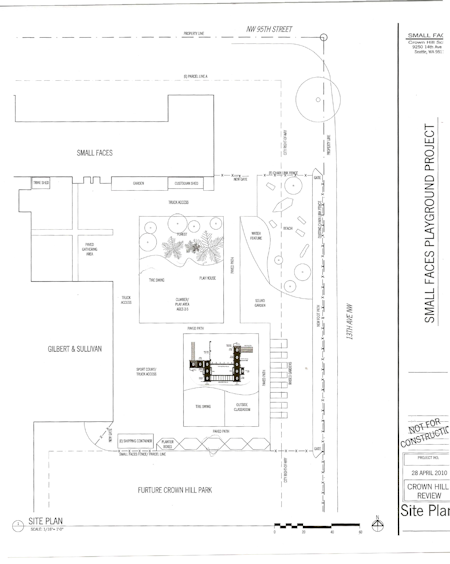 A pdf containing both diagrams in a higher resolution is available here.