From ARC Dance: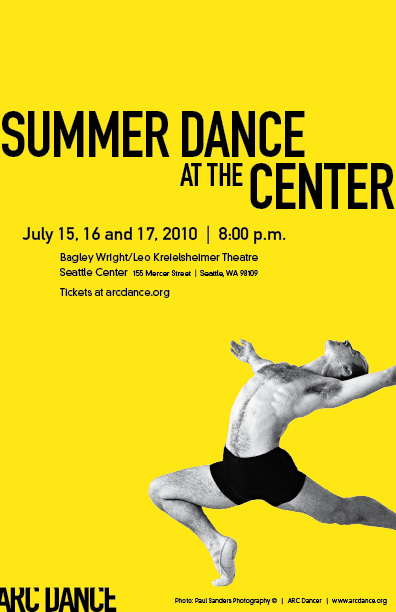 It is now less than two weeks until the opening of ARC's Summer Dance at the Center.  There will be five new world premiers by choreographers from Mark Morris Dance Group, Whim Whim, and PNB, as well as Marie Chong, Artistic Director of ARC, and Betsy Cooper, resident choreographer for ARC.  Our ten professional dancers have been working very hard to learn and perfect the dances.  The dances are fun and thought provoking; the dancers are exciting and strong.
The Bite of Seattle is happening at the Center Friday and Saturday.  This is a perfect opportunity to enjoy Seattle, get a bite to eat, and then settle in for an intimate night of dance.  The Leo K Theater is large enough to hold our company, and yet small enough for you to be up close and personal with the dancers.
You can find information about ARC, choreographer and dancer bios, and ticket purchase at our web site www.arcdance.org.  Don't miss out on the best summer dance in Seattle!
WHO:Â Â Â  ARC Dance Company
WHAT:    Summer Dance at The  Center — a mixed rep program at Seattle Center
WHERE:Â Â Â  Bagley Wright/Leo Kreielsheimer Theatre
155 Mercer Street | Seattle, WA 98109
WHEN:Â Â Â  July 15 – 17, 2010 (Thursday — Saturday) at 8:00 PM
TICKETS:Â Â Â  Adults – $25 in advance; $30 at the door
Students/Seniors (65+) – $15 in advance; $20 at the door                   www.brownpapertickets.com or ARC Dance 206 352-0798
INFO:Â Â Â  www.arcdance.org
See you soon!