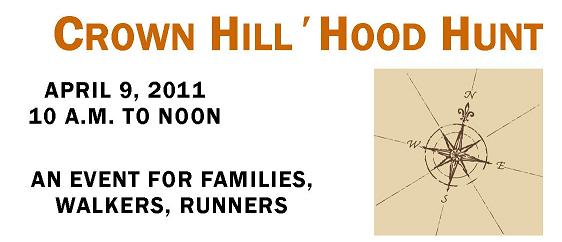 NOTE: this is now over, please visit the Wrap Up article for the event.
The Crown Hill 'Hood Hunt is a map-based scavenger hunt with checkpoints that you must find using a map that has no street names. Use your map reading skills to keep track of where you are.
Here's how it works: Come to the Crown Hill Center at 10 a.m., get a map and question sheet. The map covers about a square mile and contains twenty-five checkpoints from 85th Street to 100th Street. Find as many checkpoints as you can on foot in 75 minutes, and return to the finish. There are no items to "scavenge", only a question to answer about something you will see at each checkpoint. Afterward, participants will gather for refreshments and share routes, stories, and answers.
You can go solo, or with a team of friends and family. It's a great event for people who like to walk or jog and it's a way to get to know your neighborhood and neighbors.
Prizes donated by Swanson's Nursery and Holy Grounds Coffee Shop will be awarded to the top scoring finishers.
Start and Finish at the Crown Hill Center, 9250 14th Ave NW
$5 donation per team requested, but not required