A couple of years ago, we wrote an article on Walk Score® from walkscore.com.  The Walk Score® for an address is a measure of the walkability for that address, in other words how easy it is to walk to most destinations such as grocery stores, libraries, bookstores, etc. Scores at the high end (90-100) indicate an environment where "Daily errands do not require a car." Scores at the low end (0-24) mean "Almost all errands require a car."
The programmers at Walk Score® have recently implemented a similar index:  Transit Score(tm) to indicate the transit friendliness of an address.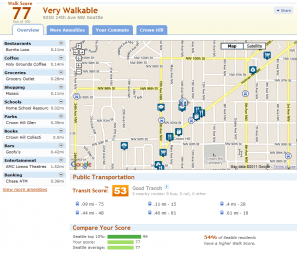 When entering addresses, the maximum Walk Score® and Transit Score(tm) I found in Crown Hill was at 85th and 15th with 88 and 55 respectively.  The site listed the following information about Crown Hill in general:
Crown Hill is the #40 most walkable neighborhood in Seattle. This neighborhood is Somewhat Walkable with an average Walk Score of 69. Crown Hill has 3,047 people—or 0.5% of Seattle's population.
Crown Hill is similar in walkability to Sunset Hill and Roxhill. Crown Hill's Walk Score is 3 points lower than Seattle's Walk Score of 72.
What are your scores? Feel free to add your score in the comments below and your approximate address or the closest intersection.