The Washington State Legislature has authorized a measure to allow King County to levy a temporary congestion reduction charge of  $20 per vehicle per year on each vehicle registered in King County for two years. If the King County Council passes the congestion charge, Metro will continue to provide planned bus services, including Rapid Ride.  In the event the charge is not approved, King County Metro has proposed a list of service cutbacks to balance their budget. In the first round of service cuts 100,000 of service would be eliminated. In the second round, 680,000 service hours are proposed to be axed.
How will the proposed service cuts affect Crown Hill?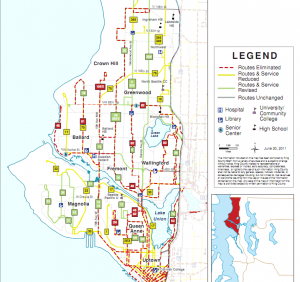 Crown Hill is serviced directly by the following routes:
Proposed/Possible cuts:
express service on the 15 line. This may be eliminated with advent of Rapid Ride anyway.
elimination of the 28 line.
reduction in frequency and/or evening/weekend loss of service on the 15, 48, 75
The Metro service running through Crown Hill is often running at or near capacity on at least some portion of each route. The loss of service hours could be devastating to those dependent upon it, such as students, and people without cars.
What can you do?
Attend a public meeting:
July 12, 6 PM,  King County Courthouse, Council Chambers, 516 3rd Ave., Seattle
July 21, 6 PM, Burien City Council Chambers, 400 SW 152nd St., Burien.
Submit your comments online.
For more information: