The Seattle Schools will be back in session in two weeks (Wednesday, September 7th). Along with the new assignment policies, parents and children will be faced with a new transportation policy and recommended walking routes to school. The new transportation policy will save the district money in the form of 80 fewer buses, and less fuel used. Under the policy, bus rides will be 25 minutes at most.
Below is a map of the transportation zones for North Beach Elementary. The orange area represents the "Walk Zone," the yellow area represents the "Regular School Bus Transportation."  Other areas are left to the parents to arrange for shuffling the children to and fro. North Beach not your school? Maps for all the schools are here.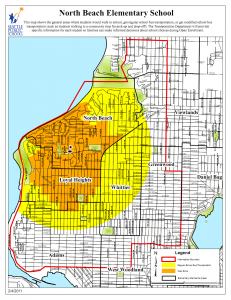 The School District has also identified Safe Walking Routes to assure your children get to school safely. Below is the map for North Beach Elementary. If you are looking for a different school, try here.