Crown Hill Neighbors has received new Crown Hill T-shirts in a variety of sizes and colors, just in time for the holidays.
You and members of your family or block can show your Crown Hill pride in navy shirts with green lettering or charcoal shirts with light grey lettering. We still have many children's tees in pale blue with chocolate lettering and a very limited number of the adult T-shirts in chocolate with blue lettering.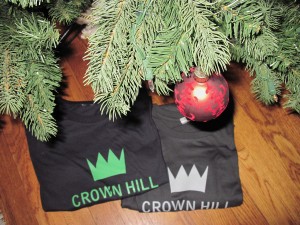 These are one-of-a-kind tees that you can't get anywhere else!
These T-shirts are wonderful stocking stuffers or perfect presents for friends or good neighbors. And you can get them one of two ways. You can buy them for only $20 for adults /$10 for children OR you can get one free when you sign up to become a member of Crown Hill Neighbors.
Crown Hill Neighbors Annual Membership* is tax-deductible and provides your neighborhood association with the funding to advocate on your behalf for better community services , as well as to host and participate in a variety of community events.
We're including a free T-shirt in our $25/year annual membership fee through December 31, 2011.
For only $25 you can make a real difference in the Crown Hill community—whether it's successfully advocating for our new Crown Hill Park (across from Dick's), which will be open to the public this spring, or organizing the Crown Hill Community Garage Sale—your membership dollars are spent on making your community a better place to live.
You can reach Deb Jaquith at tshirts@crownhillneighbors.org or 206-660-1552 to check on availability and arrange for purchase of the tees. She can also take membership requests, or you can join online.
Already a member? You can take advantage of the free T-shirt promotion by extending your membership for another year. Visit our website and renew today.
*The fair market value of the T-shirt will be subtracted from your donation for tax deduction purposes.
NOTE: The T-shirts were screenprinted at Blue Rhino Graphics, a Crown Hill business.