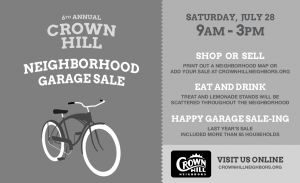 The 6th Annual Crown Hill Garage Sale signups have opened. This year's sale will be on Saturday, July 28th, from 9AM to 3 PM.
It's not too early to be thinking about what you'll be selling. You've probably been tripping over it for months now. Remember what's junk to you is likely going to be someone else's treasure!
Last year we had more than 65 participating households, and folks moved a lot of stuff out of their houses and garages on to new owners. It was a great opportunity to talk to neighbors, to cruise other sales, and maybe score a couple of prize finds.
As always, we encourage young entrepreneurs (of all ages) to set up lemonade and cookie stands.
Sign up here, and happy garage sale-ing!
UPDATE:Â  Our web sign-up form was not working over the weekend. If you submitted a sale and it has not shown up within 24 hours on the map, please resubmit or send an e-mail to garagesale@crownhillneighbors.org with your address, whether there will be lemonade or other refreshments available, and a description of the items. You can also leave a voicemail message for Dennis at (206) 706-7663. Thanks for your patience.