By Heidi Madden
On the crisp, clear afternoon of December 7, 1924, ships passing through Puget Sound on their way to Elliott Bay were treated to a surprise:  On a ridge high above the Sound, just north of Seattle, a new 600-square-foot American flag had been hoisted.  The impressive symbol, meant to be the "first sight of Seattle" for ships bound for Elliott Bay, marked the official opening of the new Olympic Golf and County Club.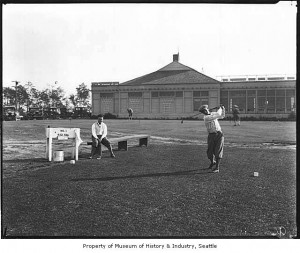 Golf Club Manager Douglas McLeod McMillin and Club President William M. Bolcom had the honor of hoisting the flag for the first time to the top of its 118-foot pole next to the new club house located at about 20th Ave. NW and NW 89th Street.  The flag's inauguration took place in front of about a hundred spectators, many of whom were visiting the new golf course for the first time.
Work on the new course began in May of 1924 on the picturesque site.  Architect Francis James actively oversaw the work, and while Bolcom was publicly dedicated to opening the course to golfers in late fall, James was less convinced that the deadline could be met.  But in late October of 1924, the new course was unofficially opened to the public – ahead of schedule.
The 18-hole course, at the time just north of the Seattle city limits, was an L-shaped property that stretched east to west from 15th Ave. NW to 24th Ave. NW.  Its longest north-to-south line was on its west side, where it stretched from NW 95th Street to NW 85th Street.
Bing's Favorite Swing
The course was designed to challenge seasoned golfers, and it attracted many legends and pioneers of the sport:  Tommy Armour, aka "The Silver Scot," winner of the 1927 U.S. Open and the 1931 British Open; Macdonald "Mac" Smith, whose full-swing technique Bing Crosby admired; Johnny Farrell, winner of the 1928 U.S. Open; and Horton Smith, who in 1934 was the first winner of the new Augusta National Invitation Tournament, later named The Masters Tournament.
Perhaps the club's most notable visitor was the charismatic and impeccably dressed Walter "The Haig" Hagen, five-time PGA Championship winner who, in 1922, was the first native-born American to win the British open.  But more important to some local fans, in 1929 Hagen broke the Olympic Golf Club mark by scoring a 68 while paired with Horton Smith in an exhibition match against the club professional and an ace amateur.
Guns and Roses
Continue reading From Legends to Lights: The Story of Olympic Golf Club →