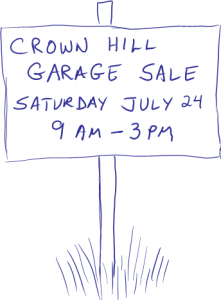 As I write this at 8:30 PM on July 23rd, NOAA is calling for a sunny day on Saturday July 24th with a high of 78 F. The weather couldn't be better … not too hot … not too cold. Get the sunscreen out, and enjoy a fabulous day buying and selling in Crown Hill!
With more than 55 participating sales, this is the most successful sale to date. If you are cruising the sales, please encourage our youngest entrepreneurs by patronizing their lemonade and refreshment stands. Also please make sure not to block access to other driveways, and most of all, watch carefully for the extra pedestrian traffic.  Maps of the sale site addresses and listings are available here. A limited number of printed maps will be available at Crown Hill Center (9250 14th Ave NW).
And in case you don't yet have one of our award-winning Crown Hill Neighbors t-shirts, you can pick yours up at the sale being held at 10034 13th Ave NW!  If you live in Crown Hill, you won't be the first on your block with this fashion statement!
I've just closed off the input form, so if you missed getting your sale listed, you can likely just set your stuff out and put up a sign, and there will be traffic.
Best of luck to all! Hope to see you there!