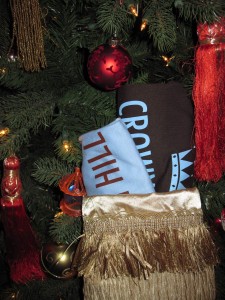 As the year winds to an end, and holiday gift shopping reaches a fevered pace, your Crown Hill Neighbors have great ideas for stocking stuffers or gifts which help you enrich your community while putting something nice under the tree for family and friends.
We've lowered prices to fit tight budgets, and hope you'll find these deals irresistible.
Crown Hill T-shirts: Identify your community with pride on a high-quality, cotton blend t-shirt.  Originally $20, we've reduced the price to $15 for this holiday sale.  This is a wonderful stocking stuffer or perfect present for a friend or good neighbor.  Quantities and sizes are limited.  Some are in brown with blue logo and some are in white with red logo. Email Deb Jaquith at deb@crownhillneighbors.org to check on availability and purchase these one-of-a-kind tees that you can't get anywhere else!
Crown Hill Neighborhood Association Annual (CHNA) Membership: This tax-deductible membership provides your neighborhood association with the funding to advocate on your behalf for better community services , as well as to host and participate in a variety of community events.  We're knocking $5 off our $25/year annual membership fee through December 31, 2010.  That's right, for only $20 you can make a real difference in the Crown Hill community—whether it's successfully advocating for our new Crown Hill Park, which is slated to be completed in 2011, or helping secure our Crown Hill School Community Center—your membership dollars are spent on making your community a better place to live.
Already a member? You can take advantage of the discount by extending your membership for another year.  Want to buy more than one year at the discounted price?  Absolutely.  Sign up today at the Membership link that is in the left column under the heading "Information".
If you'd like to give a gift membership, send an email to deb@crownhillneighbors.org.  She'll handle the invoicing and send you a membership certificate to use as a stocking stuffer or present.