By Heidi Madden and Chris Jacobsen
Have you ever driven past the Eddie McAbee entrance to Carkeek Park off of NW 100th Place and wondered who Eddie McAbee is?  Perhaps the name sounded familiar:  Didn't a guy named McAbee build a bunch of stuff around here?
Eddie McAbee was in fact the son of F.R. "Dick" McAbee, the prolific builder who, in the mid-1950s, developed and built much of what we see now on lower Crown Hill between Holman Road and NW 100th Place, including what used to be Art's Plaza, now QFC.  The Eddie McAbee park entrance land was originally part of the 105 acres on the east slope of Crown Hill purchased by Dick McAbee in 1945.  The duplexes you see at the park entrance are McAbee built.
Dick McAbee was a self-made man.  He was $10,000 in debt at the start of the Depression because of an employer who skipped town.  It took him ten years, but he paid back every cent.  He went on to build a real estate empire and a sterling reputation in the local business community.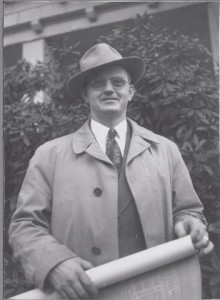 But Dick McAbee was more than a builder.  He was a philanthropist and humanitarian.  He donated the land for the park entrance to the city in 1953.  His contributions to the local community were many, and included co-chairing a funds drive to move the old Ballard General Hospital (now Swedish Medical Center) to a better location and serving on the Salvation Army Board of Advisors.
But one cause hit especially close to home:  Diabetes, a disease suffered by generations of McAbee family members.  Dick McAbee himself had it.  His son Eddie, born in 1927, struggled with juvenile diabetes for almost his entire life.  Eddie passed away in 1957 at age 30, leaving behind a wife and two young daughters.  Dick McAbee turned his grief into action and for many years supported the University of Washington in their diabetes research.
In June of 1994, the park entrance was dedicated to Eddie McAbee at the suggestion of park activist Nancy Malmgren.  The entrance, which leads to the Pipers Creek Trail, sat unused after McAbee donated the land in 1953.  It was open to the public in 1972 with funds from the Forward Thrust initiative.
Special thanks to Herb and Sue McAbee.
Sources:
Mitchell, Robert R. "We Lived in the Twentieth Century" The Life Story of Dick and Julia McAbee, Self Published, 1992
Seattle Times 4/9/99, 5/6/99, 8/15/04Ballard News Tribune 6/1/94 and 12/26/84