The developers of the scheduled 9076 Holman Road project are applying for a Master Use Permit for their project. Over 30 neighborhood residents attended the Early Design Guidance hearings for the project in 2007 and 2008. Concerns were expressed about design elements, the facade facing Holman, parking, driveways, traffic, noise, etc.  Many of those concerns were incorporated into the instructions to the developer from the guidance committee, and addressed in subsequent iterations of the proposal. The project received a go-ahead to apply for a Master Use Permit at the second EDG meeting.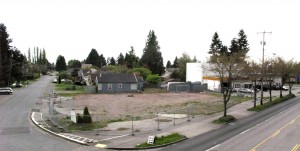 In the picture above, the grey house, the house behind it, and the white building (currently Queen Anne Auto Body) are all scheduled for demolition. The project will extend from 13th to 14th, fronting along Holman Road.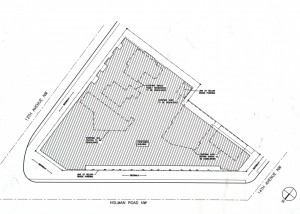 According to the DPD website for the project:
Land Use Application to allow a four-story building containing 3,798 sq. ft. of commercial and nine live-work units at ground level with 96 residential units above. Parking for 125 vehicles to be provided within the structure at and below grade. Project includes 13,000 cu. yds. of grading. Existing structures to be demolished.
[….]
SEPA Environmental Determination (This project is subject to the Optional DNS Process (WAC 197-11-355) and Early DNS Process (SMC 25.05.355). This comment period may be the only opportunity to comment on the environmental impacts of this proposal.
[Note that the map published on the DPD web site is incorrect. It shows the project sited on the North side of Holman Road at the Haywood Building. Notice has been provided to Colin Vasquez at DPD of the error. Please use the image from the sign instead.]
The comment period extends until June 1st, but may be extended by written request.
Update May 19th, 2011: The DPD has republished the notice to include the correct map location, and extended the comments deadline.