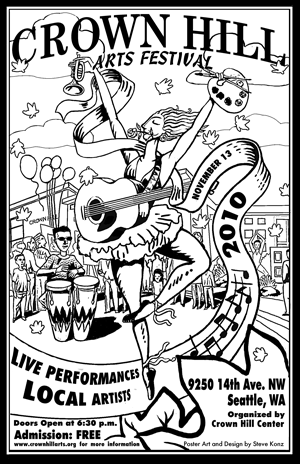 Admission is FREE!
The Crown Hill Center
is proud to present the 2010 Crown Hill Arts Festival!
Doors open at 6:30pm
Artwalk
Stroll the Artwalk and enjoy paintings and photography from local artists. Local community groups and building tenants will have information tables in the hallway.
Performances
View amazing performances including yoga, flamenco and ballet.
Beer Garden
Listen to live music, drink a beer or glass of wine and eat yummy appetizers donated by Honey, I'm Home Catering.
Instant Wine Cellar Raffle
Support the Arts Festival by buying raffle tickets for an Instant Wine Cellar!
For the Kids
Childcare by donation from 6:30 – 9:30pm provided by Small Faces Child Development Center.
9250 14th Ave. NW
Seattle, WA