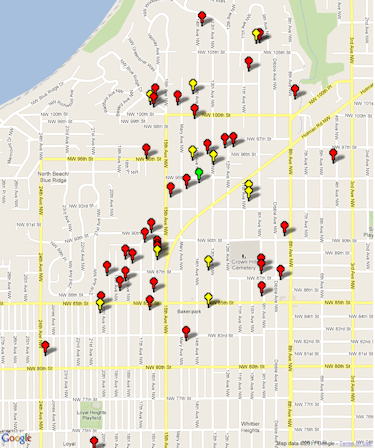 UPDATE: July 22nd. Listings are now closed. The day of sale web page is here.
UPDATE: July 20th. We've already received over 50 responses from folks hosting sales. This is shaping up to be a big event this year. We will cut off submissions to be included in the map on Friday, July 22nd at 5 PM.
Sign ups are open for this year's Crown Hill Neighborhood Garage Sale. Sign up to list your sale here.  View the map and list of participating households here.  Don't miss out on the opportunity! Lets fill the map with participating sales this year. Add your sale and buyers will come! Signups are open until 5 PM on Friday, July 22nd.
Calling all Crown Hill Neighbors to participate in our Fifth Annual  CHNA Garage Sale.  The sale will be held on Saturday, July 23rd from 9 AM to 3 PM.  About 55 households participated last year with loads of cool stuff. Great way to meet your neighbors.
Is your house overflowing with clothes, furniture, toys, appliances, etc which could find a home with one of your neighbors or garage sale cruisers? Want an excuse to buy those 70's bell bottom pants? Remember, one household's junk is another's treasure! This is your chance to buy or sell, and a wonderful opportunity to mingle with the crowds. Last year's sale had about 55 participating selling households, and many more sale cruisers.
Do your kids need an excuse to set up a lemonade stand? This is a great opportunity. Last year, we had lemonade, coffee, cookies and cupcakes.
It's definitely time to start setting your merchandise aside, and plotting joint sales with neighbors so you can take turns visiting other sales.
Questions about the sale, please contact: garagesale@crownhillneighbors.org or (206) 706-7663.
Pictures of the fun from last year's sale